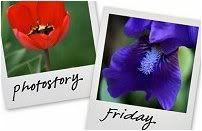 Hosted by Cecily and MamaGeek

Trying to capture a special family moment in a heavily populated area is always a challenge. It's often difficult, if not impossible to keep random persons from aimlessly straying into the frame. You curse under your breath and keep fingers crossed that some fancy photoshopping will later erase the unwanted nomads.
Yeah, about that...
Here's a terrific family photo - but it's not mine... the little guy on the left is -- casually meandering into their family portrait... Gotta love that!