Okay... So today while I was rummaging through my onslaught of daily blog reads (the list just keeps on growing) I noticed that several folks are playing along with a new weekly Photography post. Oh Goodie... I love any ol' excuse to use some of the 100's of photos I'm taking each week with my spiffy new Nikon D60. I'm not very good at it yet, but won't mind being the lameoid of the bunch.

Never one to be shy, I simply decided to just invite myself to play along. I mean schucks, I'm so new to this blogging thing And feel quite certain that if more peeps knew me they'd be just dying for me to join... life is short & I love the idea of telling a story about a photograph. Such a terrifically clever idea, lovely! So do be sure to check it out and if there's any kind of kerfuffle just tell'em I'm the Photo Crasher that sent you ;)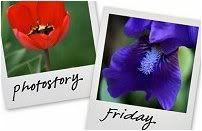 Hosted by Cecily and MamaGeek


So without further ado... my first Photostory Friday...

Every morning this gorgeous honey saunters down to our bird feeder buffet and helps herself to the assortment of goodies. I've taken to calling her Abigail and have noticed she's got quite a keen palate. She struts down about the same time for each visit, so just before I've been sneaking out and adding grapes and apples to the menu. Just for her. Let me be the first (and prolly only) to report that Abigail's excitement is matched only by her enthusiasm, never leaving a crumb behind.


I'm pretty sure my little woman is nesting somewheres in the tree line behind our house. Usually about twice a day we have an entire 'flock' or 'rafter' of turkeys come through the yard... but Abigail has been meandering down all by her lonesome for about a month now. Let's hope that'll mean baby turkey photos! Oh, now that would be quite dandy :)


What a gorgeous girl!
This last shot does a splendid job of graphically illustrating the limitations of my 200 lens. Hmmm... my birthday wish list has already got 3 lens requests on there (eek! I've only had this camera a month) and that's before all the other stuff my heart desires ;) This b-day is shaping up to be a budget buster... budget? We don't need no stinking budget.